Parades & Patriotic Events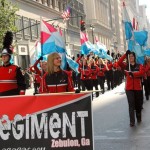 NYC Group Tours is the official travel sponsor for:
Performing Arts
Music
At NYC Group Tours, we're committed to creating special experiences around interactive musical workshops and performances.  With each seminar, every individual is encouraged to develop their own musical expression and to be challenged in ways they have not yet imagined. We specialize in choral, orchestral, band, and marching band performances and many are highly visible spaces with large audiences.
Theatre
At NYC Group Tours, we KNOW Theatre. Unrivaled in the industry, NYC Group Tours sets the standard for designing custom student theatre packages. We offer group discount theatre tickets, customized theatrical workshops, meet and greet cast members, and more! Let us be your path to "The Great White Way".
Dance
By traveling with NYC Group Tours, your dance team will experience "The Power of Dance in NYC" like never before. Our award-winning experience is simple; A unique blend of unsurpassed dance classes, coupled with performance opportunities and comprehensive dance workshops taught by Broadway dancers or choreographers.